Wealth Management
You have meaningful goals. Our Financial Advisors can help you reach them. For over 80 years, we have worked with individuals, families, businesses and institutions—to deliver services and solutions that help build, preserve and manage wealth.
TELL ME ABOUT
Morgan Stanley Wealth Management's Cash Management and Digital Platform Support has been recognized by J.D. Power for providing
"An Outstanding Customer Service Experience"
for Phone support.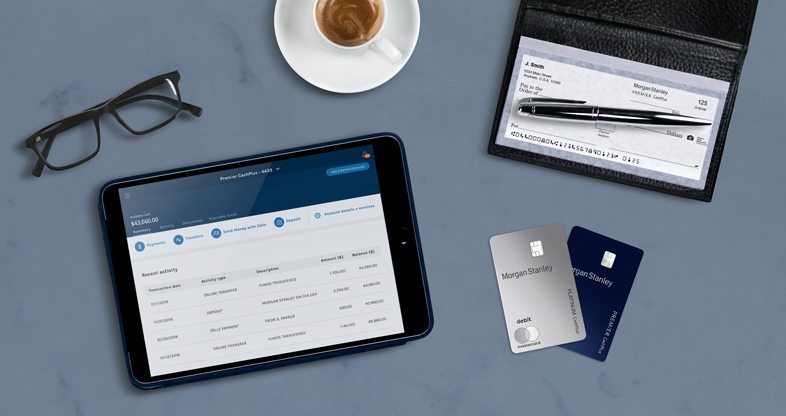 MORGAN STANLEY CASHPLUS ACCOUNTS: A Modern Alternative to Banking
Experience more value and protection in one cash management account.
Learn More
A Wealth of Cash Management Solutions
ATM FEE REBATES WORLDWIDE

ONLINE BILL PAY WITH MORGAN STANLEY PAYMENTS[1]

MORGAN STANLEY CARDS FROM AMERICAN EXPRESS

MORGAN STANLEY DEBIT CARD WITH PRICE PROTECTION* FROM MASTERCARD[2]

DIRECT DEPOSIT

MOBILE DEPOSIT WITH HIGHER LIMITS
Morgan Stanley Debit Card
The Debit Card with a suite of benefits
Our online capabilities help you stay informed about your investments and manage your everyday finances.
Find Out More
Meeting your needs at every life stage
We understand our clients' aspirations and we're as devoted to their goals as they are
WEALTH PLANNING
Creating customized wealth strategies for every aspect of your financial life
INVESTMENT
MANAGEMENT
Providing timely solutions across a range of asset classes to help you meet goals
IRAS AND OTHER RETIREMENT SOLUTIONS
Meet your retirement savings challenges with customized financial solutions
ESTATE PLANNING &
WEALTH TRANSFER
Helping protect and preserve the things that matter most: Family, legacy and values