El Museo del Barrio's Estamos Bien exhibit, with Morgan Stanley's support, displays the diverse visions and creative power of the Latinx artistic community.
At a moment when communities across the U.S. are grappling with important questions of diversity, belonging and identity, Estamos Bien—La Trienal, a groundbreaking exhibition at El Museo del Barrio, addresses these and other issues head on.
The exhibition, sponsored by Morgan Stanley, assembles the museum's first survey of work from 42 Latinx artists and collectives across the U.S. and Puerto Rico, and is the first in its new series of triennals. Works included in the show address a variety of issues, from race and identity; family, both chosen and inherited; gentrification and displacement; among other themes.

The show's title pays homage to the 2017 painting Estoy Bien ("I'm Good")—a obliquely sarcastic yet defiant response to the aftermath of Hurricane Maria—by Candida Alvarez, who exhibited and worked at El Museo during its formative years in the 1970s. Puerto Rican musician Bad Bunny uses the plural phrase estamos bien in a similar way in his 2018 hit of the same name.

"We are proud to support the Estamos Bien—La Trienal exhibit at El Museo del Barrio, showcasing talented Latinx artists who have created pieces that address important and complex issues, such as social justice, climate change and the particular effects of the global pandemic on Hispanic-Latino, Latinx and other BIPOC populations," says Ileana Musa, Co-Head of International Wealth Management at Morgan Stanley. "Celebrating diverse perspectives is a core value at Morgan Stanley, and we are excited to support these emerging artists and their inspiring work."

Indeed, by using "Latinx," a gender-neutral that departs from binary understandings of the U.S. Latino identity, to describe the exhibition's artists and their work, El Museo has emphasized the diverse generations of artists and the multipositionality of gender, ethnicity and race.

The works in the exhibition encompass a range of media, from paintings, mixed-media collages, ceramics, photographs and sculptures to videos, installations and digital projects El Museo commissioned by when the pandemic delayed the exhibition's scheduled opening.
Here are some examples of work featured in the exhibition:
Drawing on Pop Art sensibilities, including references to commodities, bright colors, and an exaggerated sense of scale, Lucia Hierro examines quotidian, personal narratives through the culture she grew up with in New York City.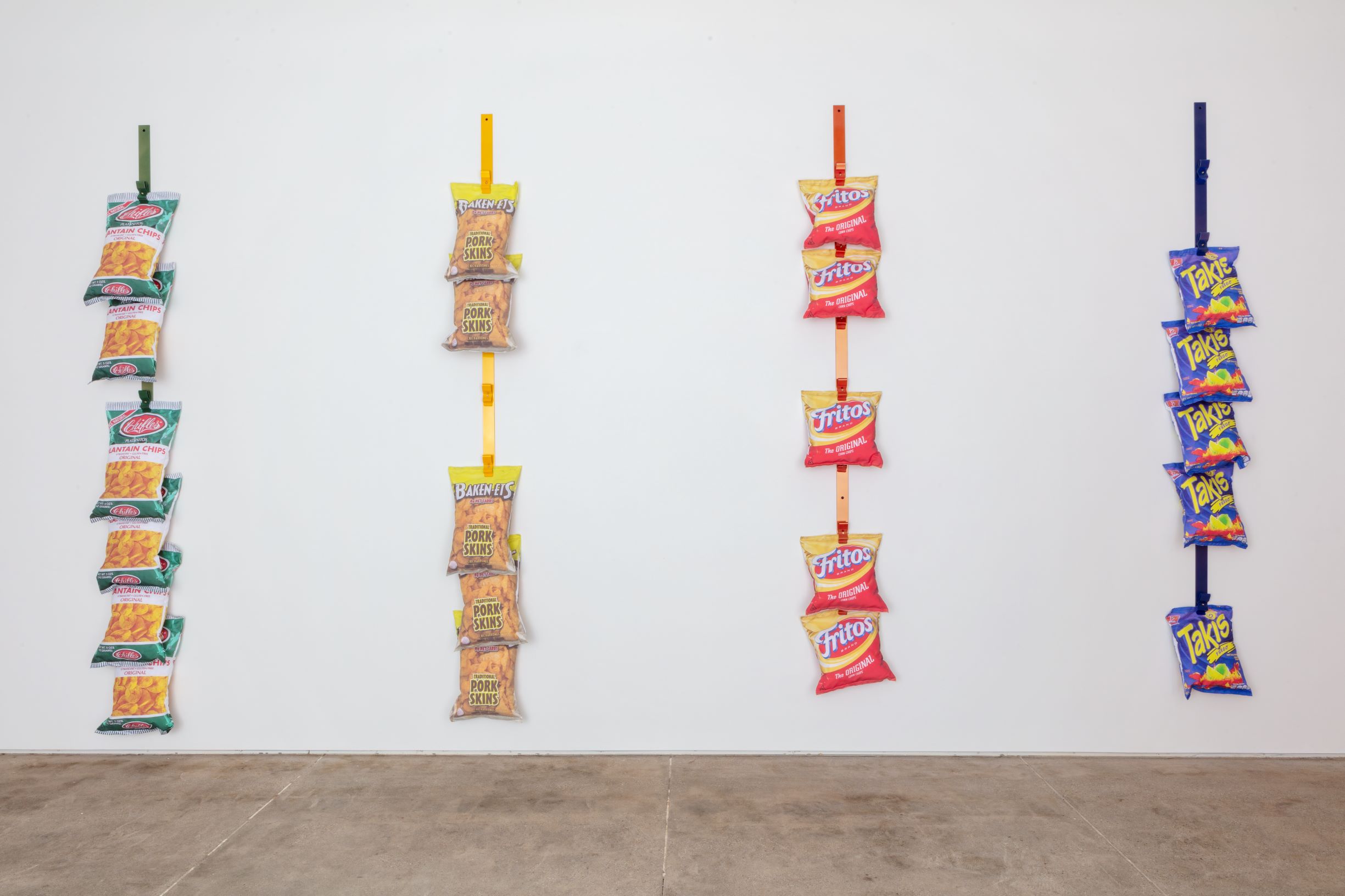 Lucia Hierro, Rack: Platanitos, 2019; Rack: Chicharrones, 2019; Rack: Corn Chips, 2019; Rack: Takis, 2019; digital print on brushed nylon, foam, and powder-coated aluminum
On the theme of families, Carolina Caycedo's Genealogy of Struggle, creates a site-specific family tree that lists environmental activists from around the world who have been threatened and killed, especially in Central and South America, along with a offerings that serve as both a shrine and site of participatory remembrance.
Carolina Caycedo, Genealogy of Struggle, 2017–ongoing, acrylic paint and marker on wall, traditional fabrics, baskets, fans, votive candles, chili peppers, coal, water, soil, garlic, and incense
Documentary photographer Ada Trillo captured scenes from the 2020 Black Lives Matter protests and solidarity with Black Americans in the fight against racial injustice.
Ada Trillo, Peaceful Protest from the Black Lives Matter series, 2020, digital print on vinyl
Collective Magpie, who began their public art practice in 2008, created an interactive project that subverts the official language of the U.S. and Mexican censuses. The artists also highlight how racial categories are constructed, rather than inherent, by asking participants when and how they feel race in their daily lives.
Collective Magpie, Who Designs Your Race?, 2020–21, participatory web platform, vinyl wallpaper
Audience participation is a key aspect of Lizania Cruz's works, both online and in physical space—with a particular focus on highlighting and sharing stories about the impact of migration on people's lives.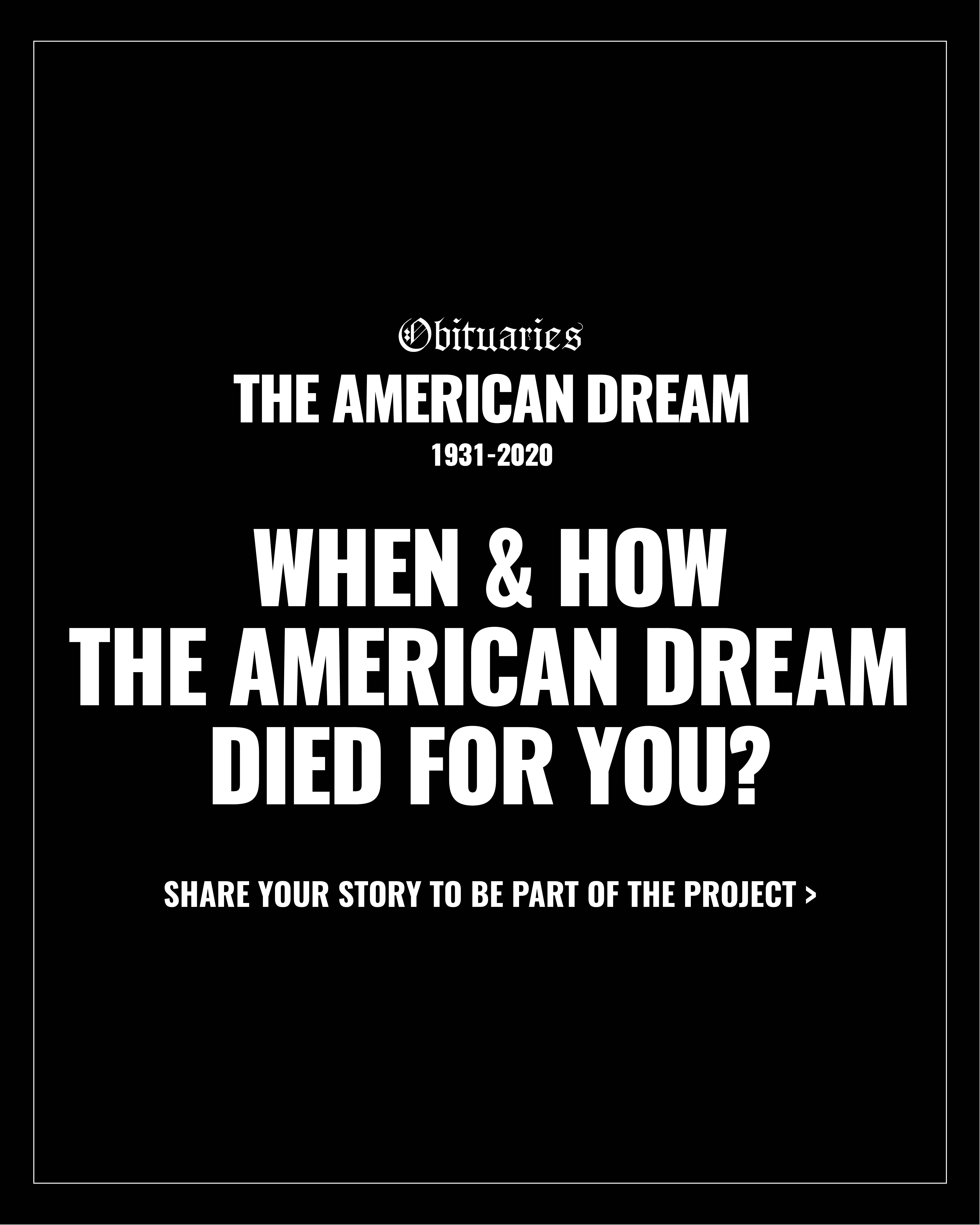 Lizania Cruz, Obituaries of the American Dream, 2020-21, participatory website and newsprint)
The exhibition will be on view in El Museo's galleries from Mar 13 - Sep 26, 2021.